Preface & Pre-Season Predictions
The University of South Florida Baseball program is one that has been overlooked this season and in the recent past. The Bulls had previously reached NCAA Regionals three times between 2015 and 2018 after not appearing since 2002. This is a huge accomplishment by a program that was never truly appreciated by top collegiate baseball writers.
Although the Bulls failed to make the NCAA Regionals in 2019, they had three players selected in the MLB Draft for the 5th straight season. They have had 19 total players drafted since 2015, 3rd most in the AAC behind Houston and Wichita State.
USF had trouble finding success in 2020, finishing with a 6-11 record before the pandemic cancelled the rest of the season. Although it may have seemed disappointing, the brief season allowed the younger players to get some much needed playing experience as well as an additional year of eligibility.
Because of the small sample size of the 2020 season, the Bulls were dismissed for the 2021 season by basically every single collegiate baseball poll. The Bulls were predicted to finish last by D1 Baseball and the AAC Preseason Coaches Poll, along with other collegiate baseball sites.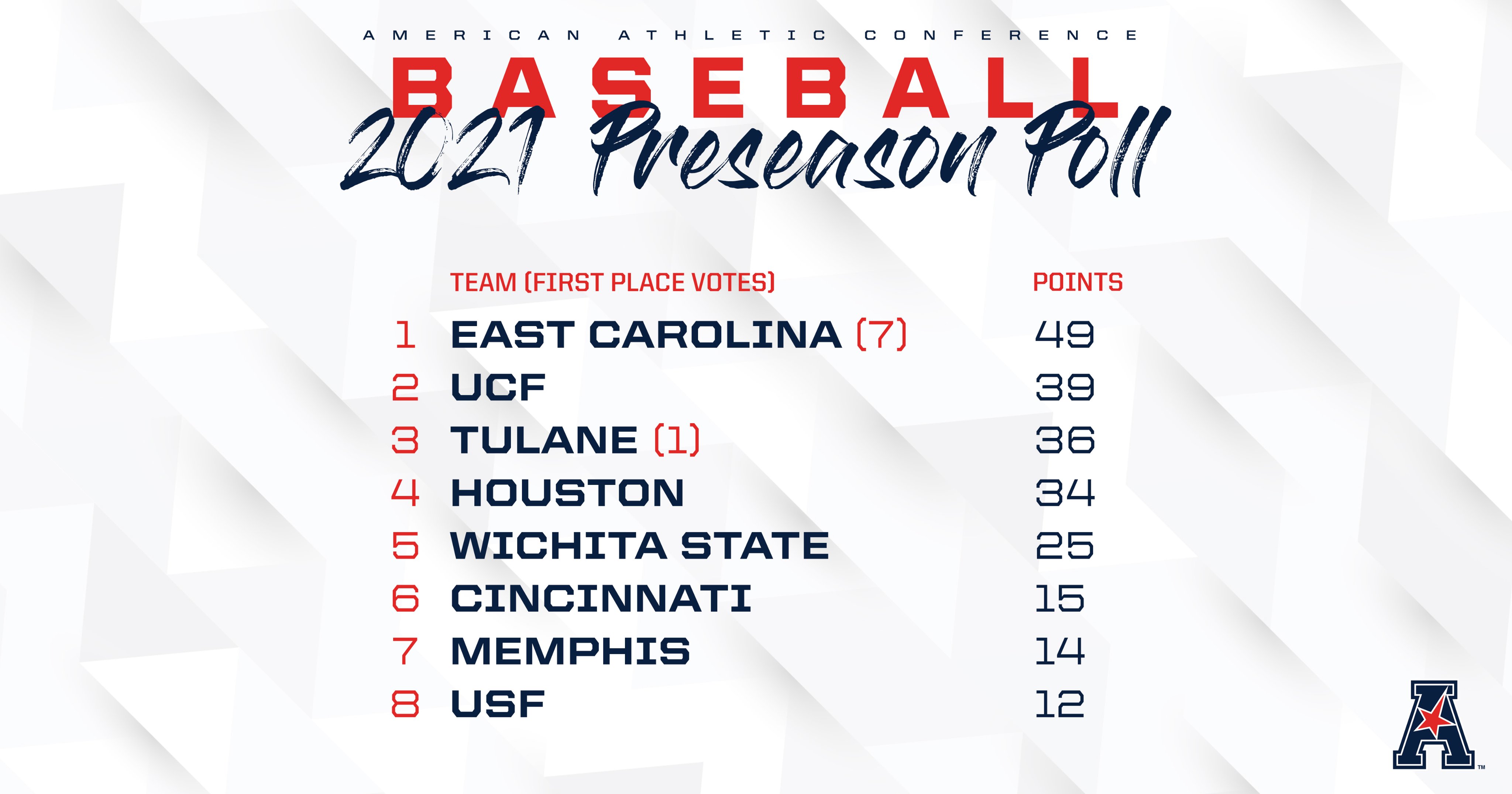 This doubt of the program fueled the boys in Tampa over the course of the season, resulting in an American Athletic Conference Tournament Title. But how did they get there…
Dominant Pitching
The Bulls rotation was the best in the conference and was a vital part of the team's regular-season and tournament success. Their core four starters are Redshirt Freshman Jack Jasiak, Redshirt Seniors Collin Sullivan & Dylan Burns, and Redshirt Sophmore Brad Lord.
Jasiak continued to build on his impressive shortened 2020 season with a dominant 2021. During conference play, he ranked 2nd in batting average against (.205), 7th in ERA (2.93), and 3rd in innings pitched (41.0). For home games this season, he has a whiff percentage of 36.6%, which is above the D1 average.
Jasiak will be the Bulls starter on Friday against the Gators and is coming off a sensational outing in the AAC Tournament against Tulane (8.2 IP, 12 K, 0 R, 1 BB).
Sullivan and Burns were both on the team the last time the Bulls made the NCAA Regionals and both provide leadership to the rotation. Both pitchers ranked in the Top-11 during conference play in ERA, batting average against, and strikeouts.
Sullivan is actually the last Bulls pitcher to start an NCAA Regional game when he pitched five innings of two-run ball against Oklahoma State in 2018. Burns has transitioned well from the bullpen and has done a very good job at allowing soft contact.
For home games this season, Burns has allowed an average exit velocity at 74.8 MPH, way below the D1 average of 82.1 MPH. His slider and changeup both get a whiff rate over 60%, which is the result of very good deception on his pitches.
Lord has been successful as of late, giving up no runs over his past two starts, including a dominant outing over Tulane in the AAC Tournament (6 IP, 4 H, 0 R, 1 BB, 8 K).
The USF Bullpen has been anchored by Redshirt Senior Logan Lyle and Redshirt Freshman Orion Kerkering. Lyle has been almost unhittable this season, pitching to a .182 batting average against. Lyle has a four-pitch arsenal and mixes his pitches well, which has contributed to a high whiff rate in home games this season (40.9%).
Kerkering has the top strikeout rate (11.36 K/9) on the team, and for good reason. He has the most spin on his pitches and also has the smallest induced vertical break during home games this season. His peak velocity at home this season was approximately 98 MPH. Overall, he had a 2.36 ERA and a .216 batting average against.
Overall, the pitching staff ranked 1st in the AAC in numerous categories. This wonderful graphic by the USF Baseball Twitter account visualizes such ranks: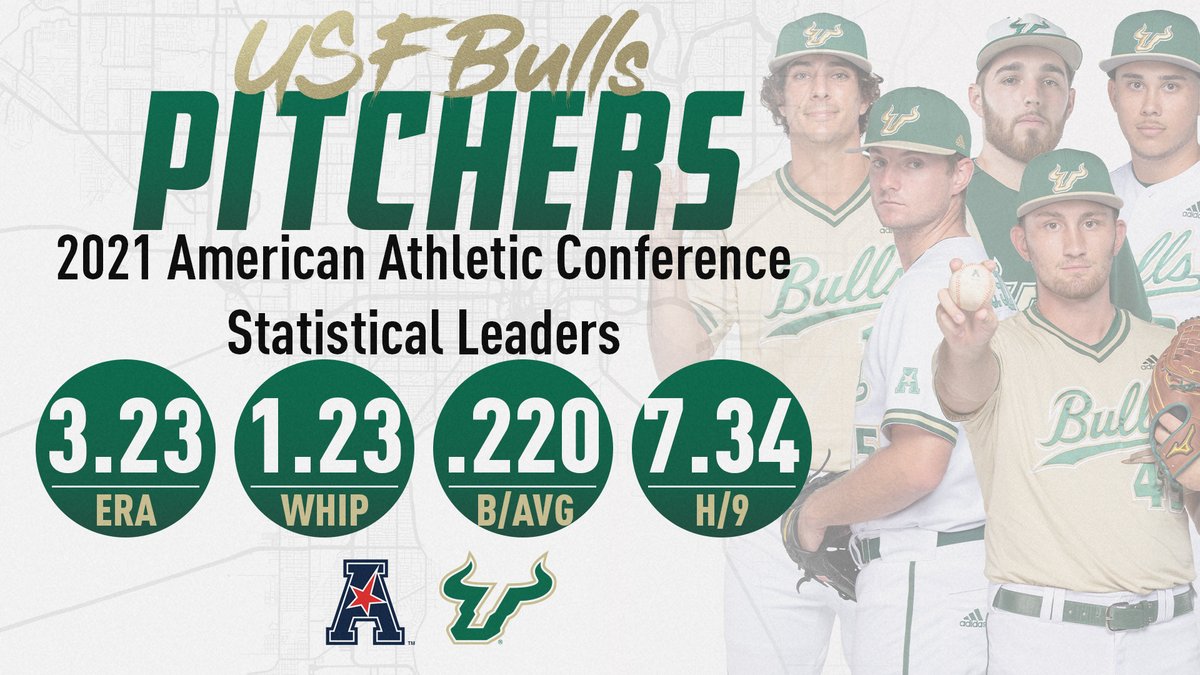 The staff also is entering the NCAA Regionals with the 47th best ERA in the country (4.12), ahead of the Florida Gators. They rank above the D1 average in Average Exit Velocity, which means that multiple Bulls pitchers are inducing soft contact at a high rate. This pitching staff is one that shouldn't be undermined, as they are a dominant group of guys who are up to the challenge of any top offense in the country.
Improved Hitting
The USF program has a hard time getting an offensive rhythm together during the 2020 season. They finished with a team slash line of .189/.290/.254 in the seventeen games they played. However, 2021 brought new life to the Bulls' offense as they enter Gainsville with a slash line of .265/.358/.405.
The Bulls offense is led by Redshirt Freshman Carmine Lane, who leads the team in hits, runs, total bases, runs batted in, doubles, and batting average. Lane hit the ball hard over 43 percent of the time, which is above the D1 average.
Another big bat in the lineup is Redshirt Junior Riley Hogan, who leads the team in average exit velocity (86.1 MPH), Hard-Hit percentage (43.4%), and average distance (221 feet) in home games this season.
The other core members of the youthful offense include Matt Ruiz, Daniel Cantu, Nelson Rivera, Jarret Eaton, Roberto Pena, and Nick Gonzalez. Cantu was especially vital to the success of the Bulls conference tournament run as he was named the AAC Tournament's Most Oustanding Player (6 H, 2 HR, 5 RBI).
Redshirt Senior Jake Sullivan played a huge leadership role as the captain of this team while also facing adversity mentioned later on in the piece. He had a couple of clutch and timely hits during the AAC Tournament and will look to lead the Bulls to an upset in the Gainsville Regional this weekend.
Overall, the Bulls' offense has scored at least five runs in each of their last seven games. In the AAC Tournament, they outscored their opponents 33-26. They look to carry this offensive momentum in their match-up with UF on Friday.
A Coach that Cares
This story shared by Jake Sullivan's father is enough to show you that Head Coach Billy Mohl not only cares about the success of his overall team but more importantly the lives of the individual athletes in his program. Mohl has brought success to this team and will continue to do so in the near future.
Coach Mohl is also heavily involved within the Tampa community and developed an idea to honor Kelly Carrow, a young USF Baseball supporter who lost her life in a tragic car accident. He had her initials placed on the team's baseball caps throughout the season. To read more about this inspirational story, check out this link.
Future Outlook
The USF Bulls are trending in the right direction when it comes to the recruiting side of things for their program. Per Perfect Game, they currently rank 37th overall (1st in AAC) for the Class of 2021 and 26th overall (1st in AAC) for the Class of 2022.
SS/3B Gavin Conticello (Ranked 58th by PG) is the top verbal commitment coming into the program next season. He will become the Bulls' 1st Top-60 ranked player to commit since 2015. His barrel speed, exit velocity, speed, and arm strength all rank towards the top of his class. Check out Conticello's sweet lefty swing down below.
The Bulls will retain over 80 percent of their run production this season into next year. The offensive core will be held down by Carmine Lane, Matt Ruiz, Nelson Cantu, Jarret Eaton, Nelson Rivera, and so many more talented hitters. The pitching staff will be anchored by nasty hurler Jack Jasiak, who will look to increase his draft stock. Orion Kerkering will hold down the bullpen for years to come. Many talented high-school players are on the way as well.
Head Coach Billy Mohl said it best in a recent interview: "We've got unbelievable talent coming in, we've got unbelievable talent on this roster, a year from now, two years from now, we could be knocking on that door to Omaha".
The Bulls continue to be dismissed even after their AAC Tournament Title, as they were barely mentioned in the NCAA Regional preview. We remember what happened last time the program was disrespected and we know that USF has nothing to lose this weekend in the swamp. The Bulls hope to prove the doubters wrong one more time, as they look to advance past NCAA Regionals for the 1st time in program history.